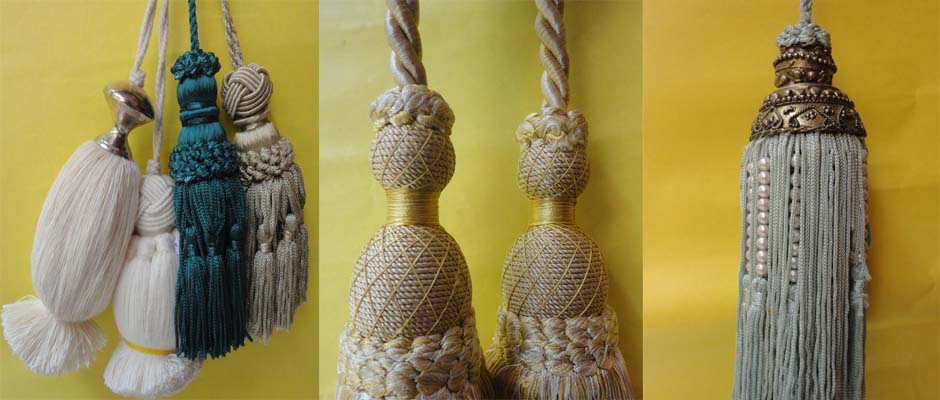 Tassels India is Proprietor Company owned by Mr. Shivam Deval
Tassels India has been consistently growing and has earned itself a position of repute in the manufacturing, supplying and exporting  of range of Tassels, Pom Poms, Curtain Tiebacks, Jute Braided , Laces, Fringes, Trims, Dori Tassels, Hanging Pom Pom, Woolen Pom Poms, Acrylic Pom Poms, Cotton Pom Pom, Crochet lace, decorative home furnishings, handcrafted items and garment accessories like buttons, Fabric Buttons, Fabric Dori ,Christmas decorative, bangles, beads, buttons.
We have been acknowledged for our appealing features which include quality Yarn, fabrics, variety of designs, patterns, prints and lastingness color.

Our manufacturing plant has the installed capacity of making 25000 pcs per day of tassels and pom poms  which enables us to maintain our efficiency and successfully undertake large scale production. We are extremely proficient in handwork along with functions like cutting, developing. We also have the provision of customization of our consignments as well as the packaging. The material that we use is of the finest quality and has to conform to the specified stringent quality parameters thereby facilitating the delivery of high-quality products. We also ensure that our trained workforce do quality check at every stage of manufacturing process.

We have been manufacturing and supplying our products all across the nation. We also export our products to various countries abroad which include Europe, UK, and USA. Client satisfaction being our highest priority provides us the impetus to successfully cater to major industries like fashion houses, fashion boutiques and fashion malls.

Under the able guidance of Mr. Shivam Deval, our organization has earned stupendous recognition not only in the country but around the world. With almost 30 years of experience at hand he has lead the organization to achieve unprecedented success in the textile industry by exceeding the clients' expectations.
Tassels are designs for Interior Designer, Garments, and Handicrafts
Tassels, Curtain Tiebacks, Pom Pom, Laces, Trimmings
Empowered with our
Tassels, Pom poms Fringes, Carpet Trims, Betted Fringes, laces, Bracelets, Caps, crochet mobile pouch, croshia, drawstring cords, Invitation tassels, Bookmark Tassels,Jewellery Tassels, Sari Tassels, Dupatta Tassels, Ribbon Tassel, Rafia Tassels, Napkin Ring, Zari Tassels.
With our experienced artisans and modern techniques of production, we have been able to meet the upcoming needs of the market. Our increased production, we have met the needs of a large number of clients located across the globe, especially from U.S.A, Australia, UK and Sri Lanka. We are providing our service in Tirupur, Chennai, Bangalore, Mumbai, Jaipur, Kolkata, karur, all over india.